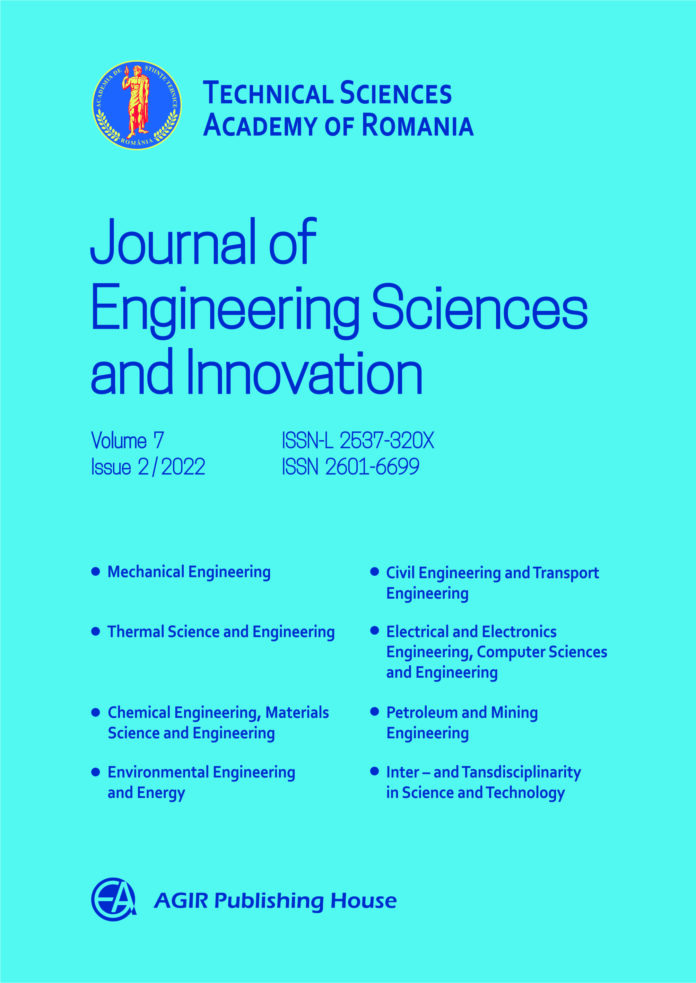 This work is licensed under a Creative Commons Attribution 4.0 International License.

---

Journal of Engineering Sciences and Innovation (JESI) is indexed in the following databases for academic journals:

– Directory of Open Access Journals (DOAJ);
– EBSCO, Publishing Inc.;
– Open Academic Journal Index (OAJI);
– Index Copernicus;
– Google Scholar;
– Journalspedia.

Editing: Ing. Iolanda Constanţa PANAIT

Cover: Mihai GĂZDARU

 Technical Sciences Academy of Romania

26, Dacia Blvd., Bucharest 030167, Romania

Tel.: (+4)021.316.89.93; E-mail: contact@astr.ro

118, Calea Victoriei, Bucharest 010093, Romania

Tel./fax: (+4)021.3168992; E-mail: editura@agir.ro

www.edituraagir.ro

Editor-in-chief: Valeriu V. JINESCU
University Politehnica of Bucharest
Co-editor: Florin Teodor TANASESCU
University Politehnica of Bucharest
Honorary editor: Mihai MIHAITA
President of Technical Sciences Academy of Romania
Managing editor: Dan BOGDAN
AGIR Publishing House

Quarterly multidisciplinary scientific journal:

– covers all disciplines of engineering sciences;
– free of charge. No processing and submission charges;
– open access;
– hard copy version, ISSN 2601 -6699;
– on-line version, ISSN-L2537 – 320X;
– high visibility, anyone can read and/or download a paper;
– jesi@astr.ro

Copyright. Journal of Engineering Sciences and Innovation (JESI) has the copyright for all the published papers; it is a Gold Open Access Journal.
The readers are free to download, copy and distribute the paper content, even commercially, as long as they credit you for the original creation and cited the paper author(s).

Journals fusion. Starting January 01, 2022 the journals mentioned below fuse with JESI and terminate their activity. The issues specific to each journal will be included in the appropriate section of the JESI:

‒ the journal Termotehnica / Thermal Engineering / Thermotehnique, will be included in section Thermal Science and Engineering;

‒ the Romanian Journal of Mechanics will be included in the section Mechanical Engineering;

‒ the Journal Telecommunications will be included in the section Electrical and Electronics Engineering, Computer Sciences and Engineering.
CONTENTS
A. Mechanical Engineering
Mircea Radeş
Assessing mode indicator functions used in modal testing
131
George Ghiocel Ojoc, Larisa Titire Chiper, Lorena Deleanu
Failure simulation of stratified panel under ballistic impact
143
Dan Cristian Silaghi-Perju, Erwin-Christian Lovasz, Dan Perju, Corina-Mihaela
Gruescu, Dan Teodor Mărgineanu
Total size minimization of cam mechanisms with translating follower
159
C. Chemical Engineering, Materials Science and Engineering
Grigore Bozga
Catalytic conversion of glycerol. A review of process kinetics and catalytic reactors
175
Ioana Tismanar, Duta Anca
Vis-active photocatalytic composite thin films for advanced wastewater treatment
193
Mircea Eremia, Ioan C. Damian, Lucian Toma, Mihai Sănduleac
Overview of offshore wind turbines: foundations, connections to grid and perspective in the Romanian coastal environment
203
F. Electrical, Electronics Engineering, Computer Sciences and Engineering
Waseem Mohammad, Ahmad Mumtaz, Parveen Aasiya
A technological assessment of electrical motors for e-rickshaws
231
G. Petroleum and Mining Engineering
Zisopol Dragos Gabriel, Dumitrescu Andrei, Minescu Mihail, Diniță Alin
New materials intended for use within natural gas installations and quality testing procedures
241
H. Inter – and Transdisciplinarity in Science and Technology
Valeriu V. Jinescu
Synergy and matter behavior, a new approach
253
Helerea Elena, Cojanu Vlad, Călin Marius-Daniel
Interconnectivity between energy and water supply systems
263
Conferences
Special Issue
Most citated papers, published since 2016
To send an email to Editor click on his name.