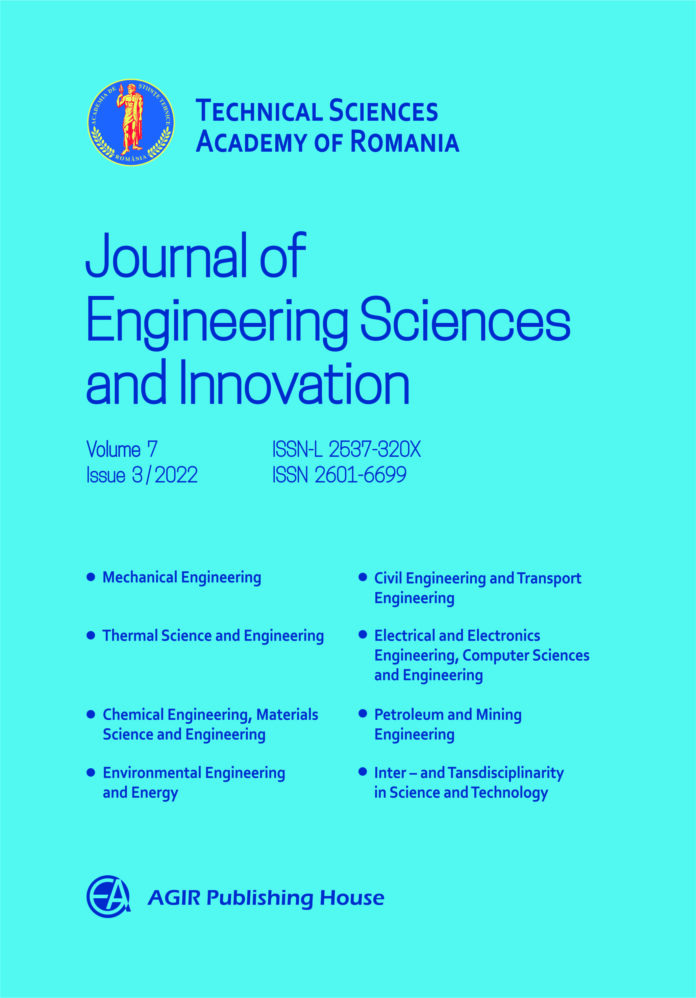 This work is licensed under a Creative Commons Attribution 4.0 International License.

---

Journal of Engineering Sciences and Innovation (JESI) is indexed in the following databases for academic journals:

– Directory of Open Access Journals (DOAJ);
– EBSCO, Publishing Inc.;
– Open Academic Journal Index (OAJI);
– Index Copernicus;
– Google Scholar;
– Journalspedia.

Editing: Ing. Iolanda Constanţa PANAIT

Cover: Mihai GĂZDARU

 Technical Sciences Academy of Romania

26, Dacia Blvd., Bucharest 030167, Romania

Tel.: (+4)021.316.89.93; E-mail: contact@astr.ro

118, Calea Victoriei, Bucharest 010093, Romania

Tel./fax: (+4)021.3168992; E-mail: editura@agir.ro

www.edituraagir.ro

Editor-in-chief: Valeriu V. JINESCU
University Politehnica of Bucharest
Co-editor: Florin Teodor TANASESCU
University Politehnica of Bucharest
Honorary editor: Mihai MIHAITA
President of Technical Sciences Academy of Romania
Managing editor: Dan BOGDAN
AGIR Publishing House

Quarterly multidisciplinary scientific journal:

– covers all disciplines of engineering sciences;
– free of charge. No processing and submission charges;
– open access;
– hard copy version, ISSN 2601 -6699;
– on-line version, ISSN-L2537 – 320X;
– high visibility, anyone can read and/or download a paper;
– jesi@astr.ro

Copyright. Journal of Engineering Sciences and Innovation (JESI) has the copyright for all the published papers; it is a Gold Open Access Journal.
The readers are free to download, copy and distribute the paper content, even commercially, as long as they credit you for the original creation and cited the paper author(s).

Journals fusion. Starting January 01, 2022 the journals mentioned below fuse with JESI and terminate their activity. The issues specific to each journal will be included in the appropriate section of the JESI:

‒ the journal Termotehnica / Thermal Engineering / Thermotehnique, will be included in section Thermal Science and Engineering;

‒ the Romanian Journal of Mechanics will be included in the section Mechanical Engineering;

‒ the Journal Telecommunications will be included in the section Electrical and Electronics Engineering, Computer Sciences and Engineering.
CONTENTS
A. Mechanical Engineering
Ionel Staretu, Ion Voicu
New method of sterilization and disinfection of objects infected with COVID 19 and prototype test
279
B. Thermal Science and Engineering
Ban Alexandra, Bungău Constantin
Estimation of the initial investment cost in systems equipped with heat pumps using regression analysis
293
C. Chemical Engineering, Materials Science and Engineering
Patrice Berthod
As–cast microstructures of HEA designed to be strengthened by HfC
305
Ioan Ilca, Daniela Miloştean, Ştefan Balazsi
Increasing of rolling mill rolls durability in operation – part II
315
Justina Georgiana Motaș, Fabrizio Quadrini, Simona-Nicoleta Mazurchevici, Dumitru Nedelcu
OTR and surface-wetting of coated Arboblend V2 Nature sheets
327
Petru Moldovan, Mihai Buțu, Constantin-Domenic Stăncel
New in-situ composite materials with aluminium alloy matrix (6063) and vanadium boride particles
335
D. Environmental Engineering and Energy
Liliana Rusu
A MATLAB toolbox for analysis of the environmental matrix in open seas and coastal areas
349
E. Civil Engineering and Transport Engineering
Muhammad Rizqi Ramadhani,, Rusdiansyah
The stabilization effect of peat soil using an effective microorganism reviewed from CBR Value
363
G. Petroleum and Mining Engineering
Zisopol DragoȘ Gabriel, Dumitrescu Andrei, Minescu Mihail, Bădicioiu Marius, Călţaru Mihaela
Equipment for quality assessment of the copper pipes and fittings used within natural gas installations
373
H. Inter – and Transdisciplinarity in Science and Technology
Corneliu Berbente, Sorin Berbente, Marius Brebenel
A possible way to unify the electrostatic (Coulomb) and nuclear (Yukawa) interactions by using a hydrodynamic analogy
387
Conferences
Special Issue
Most citated papers, published since 2016
To send an email to Editor click on his name.