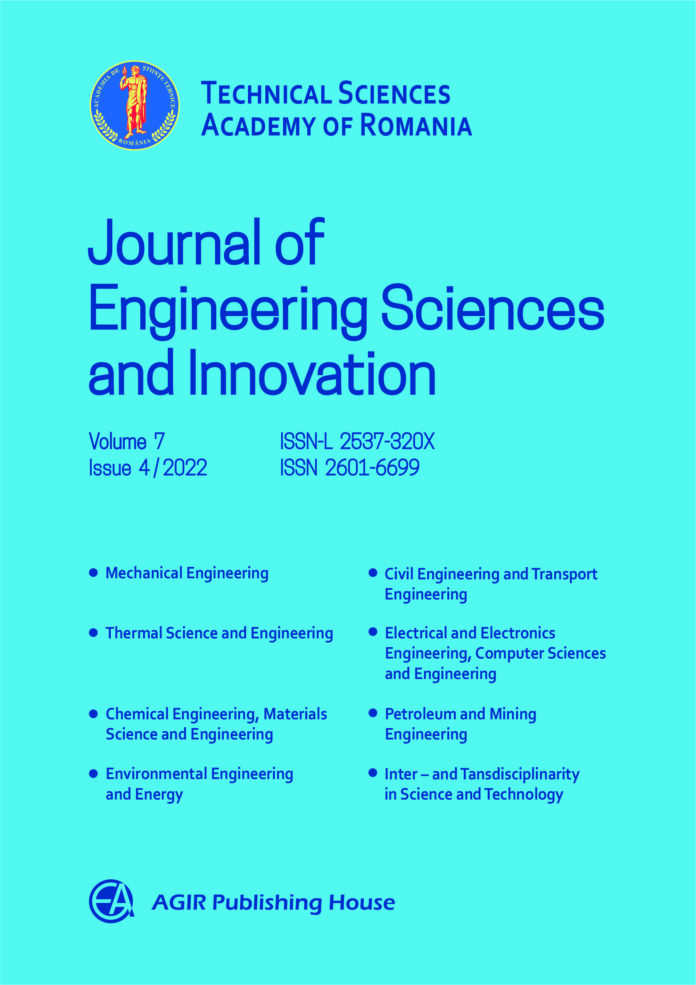 This work is licensed under a Creative Commons Attribution 4.0 International License.

---

Journal of Engineering Sciences and Innovation (JESI) is indexed in the following databases for academic journals:

– Directory of Open Access Journals (DOAJ);
– EBSCO, Publishing Inc.;
– Open Academic Journal Index (OAJI);
– Index Copernicus;
– Google Scholar;
– Journalspedia.

Editing: Ing. Iolanda Constanţa PANAIT

Cover: Mihai GĂZDARU

 Technical Sciences Academy of Romania

26, Dacia Blvd., Bucharest 030167, Romania

Tel.: (+4)021.316.89.93; E-mail: contact@astr.ro

118, Calea Victoriei, Bucharest 010093, Romania

Tel./fax: (+4)021.3168992; E-mail: editura@agir.ro

www.edituraagir.ro

Editor-in-chief: Valeriu V. JINESCU
University Politehnica of Bucharest
Co-editor: Florin Teodor TANASESCU
University Politehnica of Bucharest
Honorary editor: Mihai MIHAITA
President of Technical Sciences Academy of Romania
Managing editor: Dan BOGDAN
AGIR Publishing House

Quarterly multidisciplinary scientific journal:

– covers all disciplines of engineering sciences;
– free of charge. No processing and submission charges;
– open access;
– hard copy version, ISSN 2601 -6699;
– on-line version, ISSN-L2537 – 320X;
– high visibility, anyone can read and/or download a paper;
– jesi@astr.ro

Copyright. Journal of Engineering Sciences and Innovation (JESI) has the copyright for all the published papers; it is a Gold Open Access Journal.
The readers are free to download, copy and distribute the paper content, even commercially, as long as they credit you for the original creation and cited the paper author(s).

Journals fusion. Starting January 01, 2022 the journals mentioned below fuse with JESI and terminate their activity. The issues specific to each journal will be included in the appropriate section of the JESI:

‒ the journal Termotehnica / Thermal Engineering / Thermotehnique, will be included in section Thermal Science and Engineering;

‒ the Romanian Journal of Mechanics will be included in the section Mechanical Engineering;

‒ the Journal Telecommunications will be included in the section Electrical and Electronics Engineering, Computer Sciences and Engineering.
CONTENTS
A. Mechanical Engineering
Năstăsescu Vasile
The influence of Poisson's ratio in the calculus of functionally graded plates
393
Mircea Radeş
Using CoMIFs in structural modal testing
403
Corneliu Munteanu, Cristian Stescu, Daniela Chicet, Ioan Vida-Simiti, Bogdan Istrate, Ioan Doroftei, Raul George Ciubotariu
Study of the wear behavior of bronze coatings deposited by the EAS Method
415
B. Thermal Science and Engineering
Ibrahim Usman Haruna, Ibrahim Ahmad Rufai, Dalhatu Balarabe Yayaya
Effects of the height of supply outlet of façade-mounted hybrid downdraft evaporative cooler on the indoor air quality of an office building
427
C. Chemical Engineering, Materials Science and Engineering
Dumitra Lucan, Claudia Samarineanu, Gheorghița Jinescu
Critical materials as key factor providing efficiency in energy engineering
437
E. Civil Engineering and Transport Engineering
Ana-Maria Dabija
Thermal rehabilitation of residential buildings or efficiency vs effectiveness in envelope of existing buildings
447
F. Electrical, Electronics Engineering, Computer Sciences and Engineering
Liviu Goraș, Monica Fira
On unstable modes in graph-type circuits
455
Vasile Sima
Efficient computation of the L-infinity norm of descriptor systems
463
Rachel Apolince Assona Nguefack, Jean Mbihi, Bruno Kenfack
A novel smart instrument for multilevel alerting and multivariable monitoring of urinary absorption process into a textile medium
473
Hasbullah Hasbullah, Lindra Aulia Rachman
Fearless design on the gas leak (fire suppression and smart alert system)
485
Conferences
Special Issue
Most citated papers, published since 2016
To send an email to Editor click on his name.