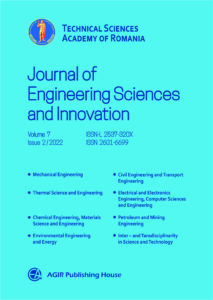 This work is licensed under a
Creative Commons Attribution 4.0 International License
.
Journal of Engineering Sciences and Innovation (JESI) is indexed in the following databases for academic journals:
– Directory of Open Access Journals (DOAJ);
– EBSCO, Publishing Inc.;
– Open Academic Journal Index (OAJI);
– Index Copernicus.
● Publishing staff
Editing: Ing. Iolanda Constanţa PANAIT
Cover: Ing. Ion MARIN
● Technical Sciences Academy of Romania
Quarterly multidisciplinary scientific journal:
– covers all disciplines of engineering sciences;
– free of charge. No processing and submission charges;
– open access;
– hard copy version, ISSN 2601 -6699;
– on-line version, ISSN-L2537 – 320X;
– high visibility, anyone can read and/or download a paper;
– jesi@astr.ro
Copyright. Journal of Engineering Sciences and Innovation (JESI) has the copyright for all the published papers; it is a Gold Open Access Journal.
The readers are free to download, copy and distribute the paper content, even commercially, as long as they credit you for the original creation and cited the paper author(s).
Journals fusion. Starting January 01, 2022 the journals mentioned below fuse with JESI and terminate their activity. The issues specific to each journal will be included in the appropriate section of the JESI:
‒ the journal Termotehnica / Thermal Engineering / Thermotehnique, will be included in section Thermal Science and Engineering;
‒ the Romanian Journal of Mechanics will be included in the section Mechanical Engineering.