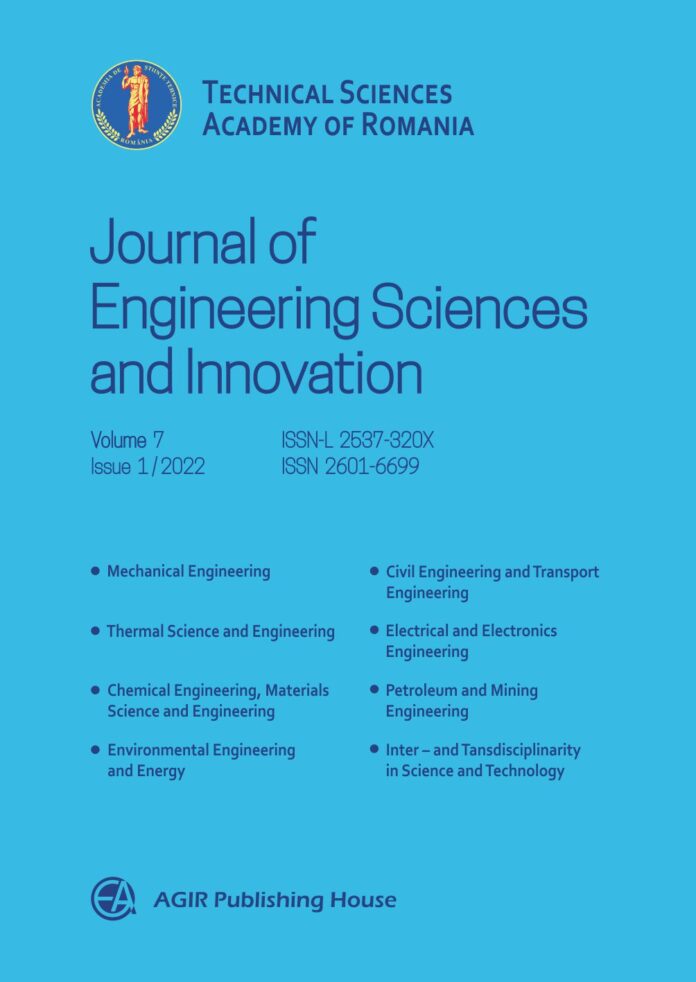 This work is licensed under a Creative Commons Attribution 4.0 International License.

---

Journal of Engineering Sciences and Innovation (JESI) is indexed in the following databases for academic journals:

– Directory of Open Access Journals (DOAJ);
– EBSCO, Publishing Inc.;
– Open Academic Journal Index (OAJI);
– Index Copernicus;
– Google Scholar;
– Journalspedia.

Editing: Ing. Iolanda Constanţa PANAIT

Cover: Mihai GĂZDARU

 Technical Sciences Academy of Romania

26, Dacia Blvd., Bucharest 030167, Romania

Tel.: (+4)021.316.89.93; E-mail: contact@astr.ro

118, Calea Victoriei, Bucharest 010093, Romania

Tel./fax: (+4)021.3168992; E-mail: editura@agir.ro

www.edituraagir.ro

Editor-in-chief: Valeriu V. JINESCU 
University Politehnica of Bucharest
Co-editor: Florin Teodor TANASESCU
University Politehnica of Bucharest
Honorary editor: Mihai MIHAITA
President of Technical Sciences Academy of Romania
Managing editor: Dan BOGDAN
AGIR Publishing House

Quarterly multidisciplinary scientific journal:

– covers all disciplines of engineering sciences;
– free of charge. No processing and submission charges;
– open access;
– hard copy version, ISSN 2601 -6699;
– on-line version, ISSN-L2537 – 320X;
– high visibility, anyone can read and/or download a paper;
– jesi@astr.ro

Copyright. Journal of Engineering Sciences and Innovation (JESI) has the copyright for all the published papers; it is a Gold Open Access Journal.
The readers are free to download, copy and distribute the paper content, even commercially, as long as they credit you for the original creation and cited the paper author(s).

Journals fusion. Starting January 01, 2022 the journals mentioned below fuse with JESI and terminate their activity. The issues specific to each journal will be included in the appropriate section of the JESI:

‒ the journal Termotehnica / Thermal Engineering / Thermotehnique, will be included in section Thermal Science and Engineering;

‒ the Romanian Journal of Mechanics will be included in the section Mechanical Engineering;

‒ the Journal Telecommunications will be included in the section Electrical and Electronics Engineering, Computer Sciences and Engineering.
CONTENTS
A. Mechanical Engineering
Mircea Radeş
Modal testing of a turbofan case using the LMIF
1
C. Chemical Engineering, Materials Science and Engineering
Dumitra Lucan, Șerban Constantin Valeca, Gheorghita Jinescu
Applying knowledge in the field of structural materials degradation from large pressurized reactors to small modular reactors
15
Georgeta Alecu, Wilhelm Kappel
Precious metals recovered by urban mining
29
Adela Elena Manea, Maria Delia Perju, Andra Tămaş
Systems theory and the study of cosmetic products
45
Ioan Ilca
Theory and practice of asymmetrical longitudinal rolling (Part 2)
59
Vasile Sima
Numerical solution of stable generalized complex Lyapunov equations
71
F. Electrical, Electronics Engineering, Computer Sciences and Engineering
Alexandru Lodin, Lacrimioara Grama, Corneliu Rusu
State-space approach for symbolic analysis of an analog passive filter and its conversion to digital filter
87
Chiper Doru Florin
A new integer algorithm for an efficient VLSI implementation of DST using obfuscation technique
97
H. Inter – and Transdisciplinarity in Science and Technology
Ionela-Mihaela Roşu (Marin), Cosmin Jinescu, Ion Durbacă, Iolanda Constanţa Panait
Superposition and/or cumulation of loads in the case of linear behavior of matter, solved by a monodisciplinary or interdisciplinary approach
105
Ioan Cuncev
Transdisciplinarity approaches to mobility
121
Conferences
Special Issue
Most citated papers, published since 2016
To send an email to Editor click on his name.