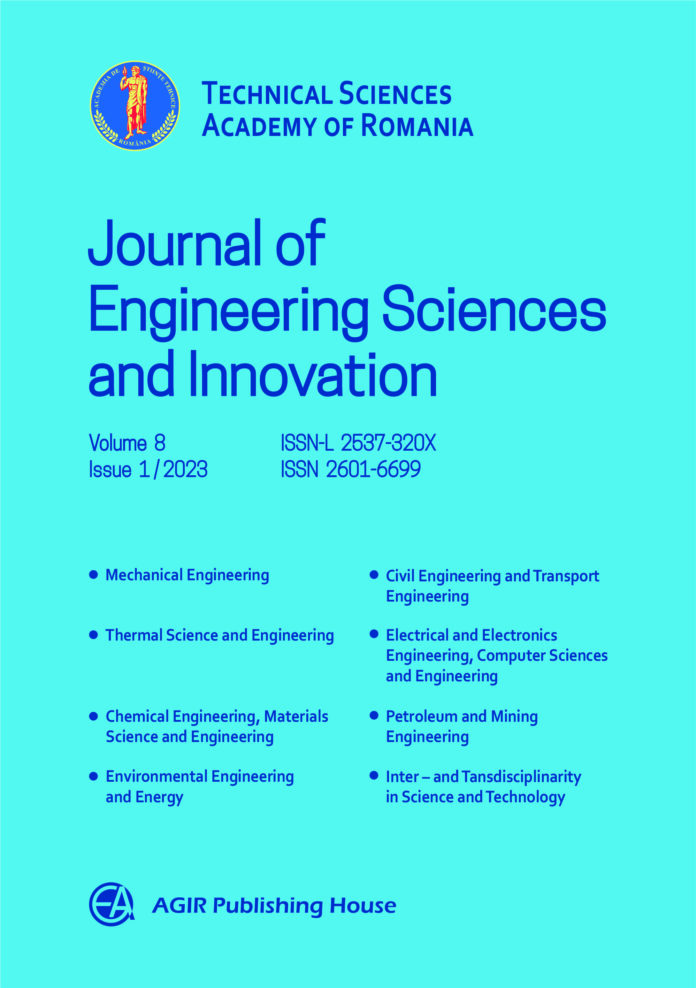 This work is licensed under a Creative Commons Attribution 4.0 International License.

---

Journal of Engineering Sciences and Innovation (JESI) is indexed in the following databases for academic journals:

– Directory of Open Access Journals (DOAJ);
– EBSCO, Publishing Inc.;
– Open Academic Journal Index (OAJI);
– Index Copernicus;
– Google Scholar;
– Journalspedia.

Editing: Ing. Iolanda Constanţa PANAIT

Cover: Mihai GĂZDARU

 Technical Sciences Academy of Romania

26, Dacia Blvd., Bucharest 030167, Romania

Tel.: (+4)021.316.89.93; E-mail: contact@astr.ro

118, Calea Victoriei, Bucharest 010093, Romania

Tel./fax: (+4)021.3168992; E-mail: editura@agir.ro

www.edituraagir.ro

Editor-in-chief: Valeriu V. JINESCU
University Politehnica of Bucharest
Co-editor: Florin Teodor TANASESCU
University Politehnica of Bucharest
Honorary editor: Mihai MIHAITA
Honorary President of Technical Sciences Academy of Romania
Managing editor: Dan BOGDAN
AGIR Publishing House

Quarterly multidisciplinary scientific journal:

– covers all disciplines of engineering sciences;
– free of charge. No processing and submission charges;
– open access;
– hard copy version, ISSN 2601 -6699;
– on-line version, ISSN-L2537 – 320X;
– high visibility, anyone can read and/or download a paper;
– jesi@astr.ro

Copyright. Journal of Engineering Sciences and Innovation (JESI) has the copyright for all the published papers; it is a Gold Open Access Journal.
The readers are free to download, copy and distribute the paper content, even commercially, as long as they credit you for the original creation and cited the paper author(s).

Journals fusion. Starting January 01, 2022 the journals mentioned below fuse with JESI and terminate their activity. The issues specific to each journal will be included in the appropriate section of the JESI:

‒ the journal Termotehnica / Thermal Engineering / Thermotehnique, will be included in section Thermal Science and Engineering;

‒ the Romanian Journal of Mechanics will be included in the section Mechanical Engineering;

‒ the Journal Telecommunications will be included in the section Electrical and Electronics Engineering, Computer Sciences and Engineering.
CONTENTS
A. Mechanical Engineering
Larisa Titire Chiper, George Ghiocel Ojoc, Ioana Gabriela Chiracu, Lorena
Deleanu
The influence of introducing the cohesive zone model in simulating the impact of stratified compositeshe influence of Poisson's ratio in the calculus of functionally graded plates
1
C. Chemical Engineering, Materials Science and Engineering
Ioan Ilca, Daniela Miloştean
The influence of rolling technological factors on the quality of reinforcing steel
17
C. Munteanu, D.L. Chicet, B. Istrate, M. Benchea, C. Paulin, I. Vida-Simiti
Evaluation of abrasive wear resistance of self-fluxing Ni-base coatings by s D.L.cratch testing
31
Marius Brebenel, Corneliu Berbente
A new approach for mathematical modeling of chemical kinetics
43
Vlad-Marius Bolocan, Dragoș-Dumitru Vâlsan, Corneliu-Marius Crăciunescu
Actuation based on phase transformations in microlayered architectures
53
D. Environmental Engineering and Energy
Ioana Tismanar, Anca Duta
Vis-active TiO2 – g-C3N4 photocatalytic coatings for advanced wastewater treatment and self-cleaning applications
63
E. Civil Engineering and Transport Engineering
Marinescu Andrei, Nicolae Golovanov
VGI: smart grid integration of electric vehicle
69
Dan Constantinescu
Energy sizing of nZEB buildings (I)
77
F. Electrical, Electronics Engineering, Computer Sciences and Engineering
Oguz Ozan Yolcan, Ramazan Kose
Providing the electricity need of a house with photovoltaic panels: Kütahya case study
93
Conferences
Special Issue
Most citated papers, published since 2016
To send an email to Editor click on his name.